Lifelong vintage collection Gi Joe 3.75 Figures 118 scale withUSS Flagg Carrier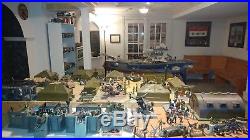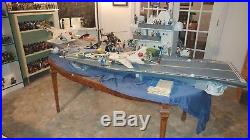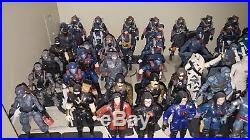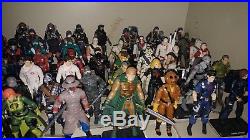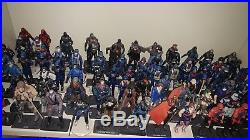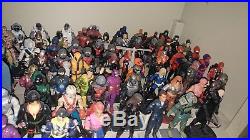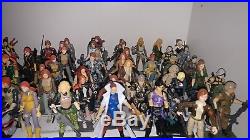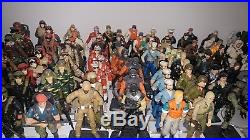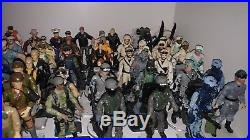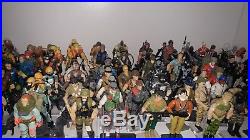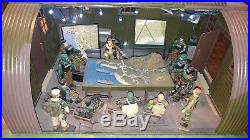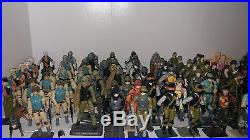 Plain and simple, this is the Mount Everest of Collections for that avid collector who searches far and wide for an outstanding opus, a swan song piece to complete his true ensemble. This has been lovingly cared after for years and thoughtfully crafted. This is not for the hideously fixated conventioneer who (not trying to slander you) is solely focused on matching the certain weapon with THAT certain figure with THAT proper shaded helmet from THAT proper production line, but rather, for that middle aged fella or mom with the financial means to try to recapture that bit of his or her adventurous youth who just damned loved GI Joes. But , as I write, I realize shouldn't be so discriminatory or elitist!
Cannibalize my legion, perfect it with your laser targeted eyes and your Sotheby's style cross references, and make it your own!! Comic con guys and gals??
Plunder the treasure, sell off the pieces and double your investment!! It is about 99.999 percent intact. It is not perfect because it is missing the original blueprints, not 100 percent of the original decals I had to order from a reprinting service that actually make a better product than HASBRO (theirs get shty after a few decades), and this was actually the CANADIAN action force edition, and I believe I had to install my own stars and stripes flag (from the 1997 stars and stripes forever set) as The tiny maple leaf guidon was misplaced.
I would have thought the flagg for Action Force would have been a little more Canucky than that, however it was odd they still called it the USS Flagg, go figure. You also have an extended Version of the Headquarters AKA the Pit.
It is mostly intact and a little bit customized but can you really complain when you have 1 3/4 of the headquarters??? The Mobile Battle Platform that looks like an oil drilling rig and several ARAH and ROC Sky Hawks are also included. The Mash forward operating bases are an AMAZING find. Keep in mind they are nearly 40 years old and VERY fragile plastic.
Some parts are held in place with scotch tape or duct tape. I authenticate that one of these is 100 percent complete OF THE PARTS, and the other stands at about 90 percent. Neither have the original decals, AGAIN, nearly 40 years old, and they have literally fallen away; the adhesive becomes paper and flakes off. I bet if you dive deep enough on the web you can find reproductions. You are getting everything that those figures touch too.
Did I not mention that? See, this is a winner take all deal. We are downsizing, and it is a fire sale. The train table, which could double as a queen sleeper or an emergency surgery table in a Walking Dead Scenario, that holds the MASH Forward Operating bases, is going with you.
I don't care if you disassemble it, put it in your truck, and drive it to the salvation army, or throw it off a bridge, it goes. The table the Flagg is sitting on? The foldy table that the 1983 HQs sits on? The bookshelves that the figures and the mobile battle platform are on with the Sky Hawks? I cannot even BEGIN to name the figures.
There is easily a couple K-worth in equity of awesome ones. I also have 1 or two of her from the streets of Cairo 1983 set where she fits in the basket.
I also have the complete streets of Cairo set that was sealed in the box until I opened it last month. I have it on display here as would be an Afghan bazaar on a forward operating base. I have two Ultimate Soldier Vehicles (Navy Seal Vietnam Era Jeeps) kitted out and re-purposed as Delta Force type fast assault vehicles taking joes on their next mission. Dozens of Marauder Gun Runner type accessories, four Wheeler, mopeds, sidecars, too much to mention.
I have nearly every conceivable female from the extended universe... Because my long term vision is I was going to create a Joe base/city /village and they were going to have lodgements and families. So nearly every star wars character was going to be a colleague or companion for one of the joes.
Too many of them to name as well.. I won't even begin to name all of the other characters, but I have pretty decent closeups on my photobucket page Some more Joes..... Sidney Biggles Jones, from the Transformers Crossover Series, 2 Copies ofher, from the Gi Joe Collectors Club, & Dr Archibald Monev, AKA Dr. NOTE: The 1984 Starduster is NOT the original, but an AWESOME Black Major duplicate I paid 54.00 for. It is well worth it as StarDuster goes 395.00. Almost as much as a brand new in package Night Force ShockWave 3-pack. I have 2, count-em 2.
Transformers Crossover'Almost Human Arcees' in a VERY Non-Tactical pink. A whole FLEET of Lift Tickets for Aircrew, Crew Chiefs and Pilots for the Sky Strikers and Little Birds, and the Sky Hawk. A squad of old and new cobra EELs A squad of Para-Vipers A near-Platoon of Life-Line Medics An Entire Delta Force raid Team of Beach-Heads, LT Falcons, Flints, Stalkers, And Quick Kicks configured with Beach Heads bodies, in their own lightedHeadquarters with a sand table and briefing boards. Both versions of Kwinn the Eskimo ARAH and collectors club Cross Country Nearly every version of Law and Order except for the gray and blue Pursuit ofcobra. Every version available of Quick Kick to include an awesome tactical custom.
Several Night Force to include Crazy Legs and Shockwave and LT Falcon. Note, two of the Shockwaves have a bustedhat or crotch but two to three are solidly intact.
Snake eyes Unclassified to include Tommy Arishkage unmasked and Snake Eyesunmasked. Mutiple old and versions of Keel Haul, General Flagg (to include the bizarresecond generation knockoff Keel Haul) And a custom Keel Haul Gung-ho Hybrid. Lots of custom in Gung-Hos dress Blues or General Hawks or other Joes dressed in the brown cobra Viper WORMS driver uniform (see the wedding pic) My aim was to take the WORMs outfit and make it a'Dress green for the GI joes, but I just couldn't find the time to paint them... What I really want to stress againis the ARAHs. They seem to be making ahuge comeback. ARAH auctions sell likecrazy on here. The more you have, thehigher they sell. The item "Lifelong vintage collection Gi Joe 3.75 Figures 118 scale withUSS Flagg Carrier" is in sale since Sunday, August 5, 2018.
This item is in the category "Toys & Hobbies\Action Figures\Military & Adventure". The seller is "signalcib" and is located in Shawnee, Kansas. This item can't be shipped, the buyer must pick up the item.
Modified Item: Yes
Custom Bundle: No
Modification Description: Gi Joe; some are custom kit bashes - re-assembly of spare parts/ cannibalization of broken Joes to make new Joes or Frankensteining--crossing parts of Joes with other figures (Star Wars,ROTL, etc)
Character Family: GI Joe
Brand: Hasbro
Non-Domestic Product: No